Duo Sentire
Teamwork, spirit and joy!
Ulrika Hebbe, piano, together with Lars-Inge Bjärlestam, cello, have for many years been an established duo, not only in our own country but also internationally. This is thanks to a busy touring schedule in such countries as: Italy, England, Spain, Portugal, Mexico, Cuba, the Philippines and the United States. They have also been chosen to represent Sweden at international festivals including Italy, Spain, Korea, Mexico and the Philippines.

They are both extremely talented musicians with soloist assignments in a variety of contexts, but at the same time they are a duo whose successful combination of teamwork, spirit and joy is seldom found.

They found their musical expression, and each other at Swedish Radio's Music School in Edsberg. When these two musical forces met so their musical ideas began to be developed, which has led to them taking their music around the world. Despite their worldwide tours, they have always enjoyed country life in Värmland as their base.

Duo Sentire increases to become Trio Sentire, when the violinist Nils-Erik Sparf joins them. Read more here!

Duo Sentire do everything from concerts, company engagements, lectures and musical productions for children / adolescents.

The characteristics of the duo are their interest and curiosity in other musical genres. Duo Sentire like to blur the boundaries with their music and mixes well in different configurations. They argue that much of the message of their music lies hidden in the name: Sentire - to listen, to feel. It is what it is really about. To give the time to listen, to open their minds.

Duo Sentire have a passionate commitment to children's natural right to culture in school. The impressions we get at a young age can influence and determine our perception of music during the rest of their lives. Several major cultural projects have been implemented in Klässbol's primary and middle schools (1997-2005). It was their passion for music and the fact that they are professional performing musicians which became the driving force that caused them to start the Klässbol Free School (High School) in 2004. Their strong conviction together with the large amount of research data which demonstrates that music, drama, dance and image is a tangible benefit in children's future development, is another very strong reason. Together they have created, inspired and designed projects, tours and school concerts not only in Sweden but internationally in such countries as Mexico, Italy, Cuba and the Philippines. Recently they presented the immensely popular musical 'Cats' with over 120 students from Klässbol Free School (High school and Sixth Form College) and 1,500 people in the audience. To read more about 'Cats' and Klässbol Free School (High School and Sixth Form College), click here!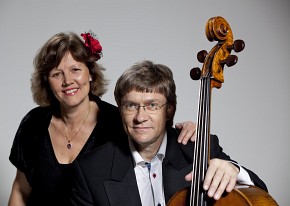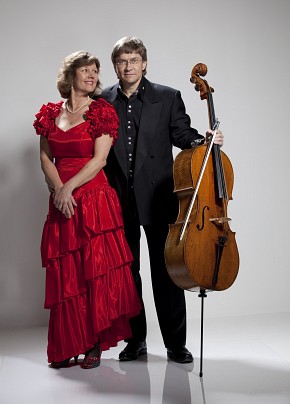 Examples to listen to
Czardas - V.Monti
Meditation - J.Massenet
Satjidao - S.Tsinsadze
Så skimrande var aldrig havet - E.Taube
Ulrika Hebbe
Ulrika Hebbe is a pianist at a high musical level. She studied for four years at the Edsberg Institute of Music (Swedish Radio's School of Music) and received her diploma in 1979. After her studies at Edsberg there followed two years of international study abroad at the highest level with Professor Sequeira Costa at the University of Kansas, USA.

Ulrika Hebbe has toured in some 20 countries, chosen by, among others, the Swedish Institute as Sweden's representative at major international festivals.

From 1987 Ulrika divided her time as a concert pianist, project leader and much sought-after piano teacher. Ulrika started playing the piano at only three years old for her grandmother who played the piano as a hobby. Ulrika's grandmother loved to play on her grand piano, so it was natural for her grandchildren to sit beside her and sing and play. Grandmother quickly discovered her talent and it was not long before Ulrika began to travel to Gothenburg for regular classes with prominent teachers.

Despite many requests for permanent jobs Ulrika has always felt the need to be free. She sees freedom as the most important objective in being able to evolve as an artist, be creative and create freely. This has meant that Ulrika has always worked as a freelance musician, which has given her great variety and spiritual wealth. For Ulrika the most important thing with music is to spread joy. She has a strong inner drive to constantly develop at her instrument and has always set herself high standards. The sky is the limit for Ulrika Hebbe!
Listeningexamples
Fantaisie-Impromptu - F.Chopin
Flight of the bumble bee - R.Korsakov
Le Rossignol - F.Lizt
Revolutionsetüden nr12 - F.Chopin | Liveinspelning från konsert Ingesund 2009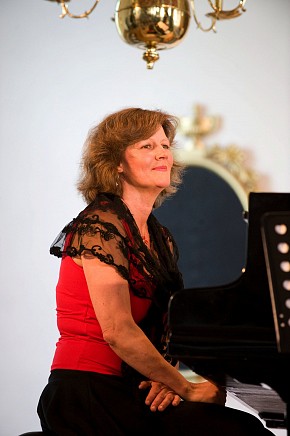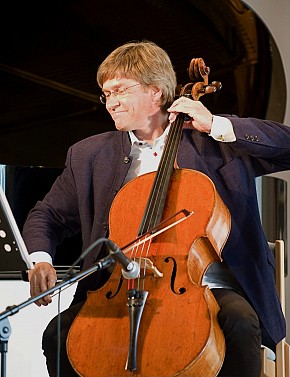 Lars-Inge Bjärlestam
Lars-Inge Bjärlestam is a cellist at a high level and is also a much sought-after educator.

His instrumental talents were discovered early by his recorder teacher who was also a cello teacher. After being urged by him to start playing the cello at the age of eight, he has never stopped. Lars-Inge's great passion for music gives him great pleasure in meeting with other great musicians when he plays chamber music, teaches his students or when he plays in a symphony orchestra of 110 members who suddenly "rise to unimaginable heights!"

Lars-Inge studied for five years at Edsberg Institute of Music (Swedish Radio's School of Music) and received his diploma in 1978. After his years at Edsberg Lars-Inge studied for two years in London, as well as with the cello professor, Aldo Parisot at Yale University (USA). In 1984 he worked at the Ingesund School of Music And in 2002 he was promoted to lecturer. In addition to Ingesund, Lars-Inge has worked as a cello teacher at the Gothenburg School of Music / University for seven years and has given many master-classes in the Nordic and Baltic countries and regularly receives Erasmus students from different parts of Europe.

Lars-Inge works regularly as a jury member in the auditions at the Royal Academy of Music and is continuously engaged as lead cellist in the most successful orchestras in Sweden and Norway – eg Oslo Philharmonic Orchestra, Gothenburg Symphony Orchestra, Norwegian Chamber Orchestra and the Royal Stockholm Philharmonic Orchestra. With these orchestras, he has taken part in tours abroad at such venues as Carnegie Hall, New York (four times), Orchestra Hall, Chicago, Boston Symphony Hall, Kennedy Center, Washington, Festspielhaus Salzburg, Chatelet, Paris, Concertgebouw Amsterdam, Milan, Rome, Lisbon and others.


Listeningexamples
Ouvertyr - W.Tell | Jussi Björling galan. Live recording from the Hall of State in the Royal Palace 2010
Suite for String Orchestra Adagio - L.Janacek